Out of stock
9MM (50RD) Drum Magazine for Glocks
$89.95
SKU: 031121-2066
Now you can load up on Tuesday and shoot to Wednesday with this 50 round 9mm magazine for your Glock. It will fit and function in all Glock 9mm handguns (except the Glock 43).
This is the new, 3rd Generation of the 50-round 9mm drum magazine, and we have tested them thoroughly they fit and function flawlessly.
Watch the video as we describe how to load the drum then demonstrate shooting.
I think you'll be impressed, as we were, that this new generation drum magazine works great. They are expensive, but they are very rare, and they may not be around much longer.
This item is not available for export outside of the United States, American Territories, or Possessions and Protectorates.
Due to legal restrictions, these magazines are not available for purchase by civilians in the specific states listed below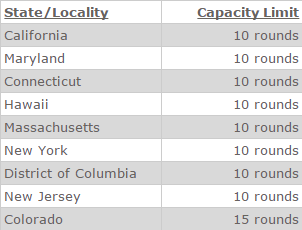 LAW ENFORCEMENT PROFESSIONALS: If you live in a state that has magazine capacity restrictions, we can ship High Capacity magazines to your residence or department address upon receipt of your LE credentials and driver's license with address that matches the ship to address.
Order Online or Call(more...)
Read more
More Information

| | |
| --- | --- |
| Product Name | 9MM (50RD) Drum Magazine for Glocks |
| MPN | 2066 |
| Product Brand | LKCI |