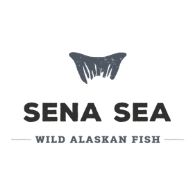 Sena Sea
We're the Wheelers. Sena Sea Seafoods is the culmination of our family's rich fishing history, our desire to share our fresh, never-farmed fish, and our commitment to ocean stewardship.
Sena's grandfather immigrated from Norway with his brothers and became a commercial fisherman in 1938. They fished using traditional Norwegian longlines, and passed the knowledge to their children, who passed it on again. Sena's father, Art, fished for thirty years, and Sena has fond memories of making trips with him on the Alrita as a teenager. Rich had the privilege of "breaking in" on the Alrita and learning the traditional Norwegian ways from Sena's dad. We are proud to be the third generation of fishermen carrying our family tradition, and teaching our kids as well. A highlight to any fishing season is when we can get the kids out on the boat to help Dad.
We work hard to bring home the best fish in the world and our goal with Sena Sea is to bring the consistent premium quality that we get to enjoy, direct to our customers...something they just can't find anywhere else.
Sena has a masters degree in Nutrition and Food Science with a specialty in quantifying omega 3's in fish, and determining prefered handling practices for premium quality. 
Rich has been fishing commercially for more than 15 years, with experience in long-lining and gill-netting. He does a majority of the fishing for Sena Sea, and we also source from fellow fishermen who share our high quality standards, and commitment to sustainability. 
We are not only fishermen, but also run a small, fisherman-owned custom processing facility in Cordova, AK (60 North Seafoods) where we specialize in premium quality and traceability. This means the fish never leaves our hands and we have complete control of our entire process.
From the pristine waters of Alaska, fresh to your table, we deliver quality in the most sustainable and ethical way possible.