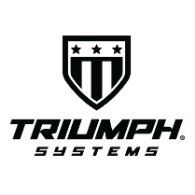 Triumph Systems
Triumph Systems is a St. Louis, MO based target and training manufacturer. Founded in 2015 by former Navy SEAL Jared Ogden, Triumph Systems is redefining cognitive & discretionary training with our versatile Pivotal Trainer amongst law enforcement agencies nationwide, academies, federal agencies, international agencies, CCW holders, and defenders of our country. Our products are designed in the US and fulfilled right here in the heartland of America. We are approved & recommended by the NTOA (National Tactical Officers Association). To learn more about Triumph Systems & our products please feel free to message us. 
Jared Ogden – CEO, Triumph Systems, Inc.
Jared is from Atlanta, GA and is an Eagle Scout.  After high school, he attended the United States Naval Academy; graduated in 2004 and was commissioned as an Ensign.  His initial orders were to a Warship in San Diego and from there, he applied for and was accepted into BUD/S (Basic Underwater Demolition / SEALs), the rigorous Navy SEAL selection program, and graduated BUD/S Class 265.  After eight years of Active Duty and four deployments, he left the Naval Service in 2012.  His military awards include the Combat Action Ribbon and Bronze Star with "V" for Valor among other numerous Joint awards.  He spent the next three years contracting in the defense industry during which time he also represented the Special Operations Community as a cast member on National Geographic Channel's Ultimate Survival Alaska for two seasons.  In March of 2015, Jared co-founded Triumph Systems and serves as their CEO today.  Jared holds a Master's in Business Administration from Washington University in St Louis, and most recently represents the local business community through his selection into St. Louis's 40 Under 40.